Colorado Comprehensive Spine Institute, Englewood, CO 80113
Englewood Surgery Center (ESC)
The Englewood Surgery Center is an outpatient ambulatory surgery center located on Colorado Comprehensive Spine Institute's main clinic campus. ESC is a one of a kind center in the Rocky Mountain States dedicated to providing treatment and optimal care to spine patients.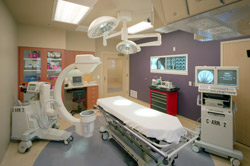 ESC is different from general ambulatory surgery centers that attempt to meet everyone's needs. Rather, Englewood Surgery Center staff, treatment protocols, and services are customized to spine care. This means ESC nurses already know our patients. This is possible due to a shared electronic medical records system with CCSI. Furthermore, since our nurses specialize in spinal care, they understand the needs and challenges of each spine patient, as well as the spinal procedures performed at Englewood Surgery Center.
Our focused approach to spine care, combined with decades of experience, equals competency; essential to excelling in patient safety, better treatment outcomes, and providing a high level of patient satisfaction. If your CCSI doctor recommends a procedure, be assured that the services the Englewood Surgery Center provides will help you on your way to improved spinal health.
For more information about the Englewood Surgery Center (ESC), please visit the links below.
Physical Therapy
A well-executed rehabilitation program in spine care depends on physical therapy that is delivered competently and consistently. Colorado Comprehensive Spine Institute is not like some free-standing therapy facilities that offer inconsistent care by different providers, who may not be educated and trained in spinal rehabilitation. Rather, CCSI's physical therapists are a dedicated spine team of Certified Physical Therapists, Massage Therapists, and Physical Therapy Assistants.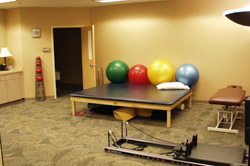 Located on CCSI's main clinic campus, our therapy team provides an in depth assessment of each patient and recommends a patient-tailored treatment plan to optimize rehabilitation on a patient-by-patient basis. Our strict one-on-one policy ensures our patients see the same therapist every time and receive a well-rounded and consistent program of spine care. CCSI even offers weekly pool therapy at a local warm water therapy pool.
Advanced Magnetic Resonance Imaging (MRI)
The importance of MR imaging has become so vital that some doctors consider it an extension of their stethoscope. MRI provides the doctor with three-dimensional pictures of the spine's soft tissues, such as the discs and nerves. Nerve compression, infection, and tumor are best diagnosed using MRI.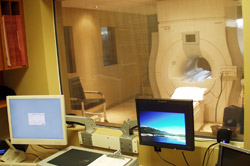 Although MRI is a wonderful tool, the scanner and equipment is very complex and expensive! However, Colorado Comprehensive Spine Institute recognizes MRI is an important component to diagnosis and made the investment for its patients by making this advanced technology available on CCSI's main clinic campus. MRI is just another resource CCSI exclusively offers its patients with many benefits.
MR images are rapidly available; immediate access
MR imaging uses CCSI's spine protocols
MRI techs and radiology team are spine experts
Easy patient access; on CCSI's Main Clinic Campus
Flexible scheduling
Patients MR scans always available, never lost or misplaced
CCSI's MRI services are accepted by insurance companies we contract with